Focusing-Oriented Therapy and Complex Trauma Training Program: A two-year continuing education program for therapists and healing professionals.
Focusing is an embodied and relational approach to unwinding stress and trauma that deepens your connection to self and others. In the first year (4 weekends) learn to bring Focusing deeply into your own life and into your clinical practice. The second year (4 weekends) teaches you to effectively work with embodied, vicarious and inter-generational trauma. Learn more about my Focusing Training Program.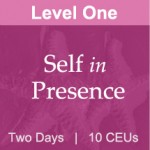 Focusing Level One is offered twice, October 17-18 and November 14-15, 2015. Level One is the first in a four-workshop series that transforms our relationship to our problems and teaches how this change process can be smoothly incorporated into any therapeutic modality.
Focusing Level One: Self in Presence
Learn to incorporate transformational Focusing skills in your personal life and your professional practice! Specifically designed for therapists and healing professionals, this workshop will teach you how to bring awareness into your body and sense the subtle ways your inner self communicates with you. You'll build trust in this inner relationship, and create a safe and nurturing environment within – one that encourages your innate gifts. You'll discover the first important skills of finding and holding presence in a Focusing session and how you can help clients to do the same.
Prerequisite: A guided session with any Focusing teacher. Contact me if you'd like to schedule a session with me or need help finding a Focusing teacher near you.
CEUs: This workshop has been approved for 10 CEUs for Licensed Social Workers, Mental Health Counselors and Marriage and Family Therapists by the Washington State Society for Clinical Social Work.
Includes: Manual and supporting materials.
Dates: Offered twice: Oct 17-18 -or- Nov 14-15, 2015
Location: My private Vashon Island studio. See photos.
Fee: $345.
Early Bird Discount: $295 (if you register at least two weeks in advance).
How Focusing Helps Therapists and Healing Professionals
Focusing is combinable with any form of therapy and makes it more effective. It will help you to: 
Unwind your own trauma

Learn about your own protective strategies

Look at your own bonding patterns

Access the wisdom of your body

Track and work with transference and counter transference in the therapeutic relationship

Tune into your own felt senses, allowing you to bring more presence to your client interactions

Learn how to 'hold space' for clients so that they can show up and be just how they need to be in the moment
Jeffrey Morrison is a Focusing-oriented therapist and Certified Focusing Coordinator through the Focusing Institute. Learn more about Jeffrey.
Workshop Benefits

 
This workshop is approved for 10 continuing education units.

A manual and supporting learning materials are included.

You'll learn how to incorporate these exciting new Focusing skills in your personal life and your professional practice.

I offer assistance with establishing Focusing partners outside of workshops for continued learning.

If you choose to complete all four levels of Focusing, you may do so at a pace that meets your needs.

I teach each of these Focusing workshops in small, supportive groups at my professional studio in an idyllic setting on Vashon Island, Wa. 

After you have completed the four Focusing workshops, you are eligible to take my Focusing for Complex Trauma Training.