Come sample the world of Focusing at the International Focusing Conference!
Everyone is welcome to attend all or part of this five-day conference in Seattle. You'll have a chance to discover and experience a wide range of specific applications of Focusing in the realms of healing, education, art and more!
July 29 – Aug 5, 2015
2-3:30 pm
Seattle University Campus
CEUs Available
More info on web at: internationalfocusingconference2015.com
My presentation on Focusing and hidden trauma will be on Friday, July 31. Below is a summary. I hope you can come check it out!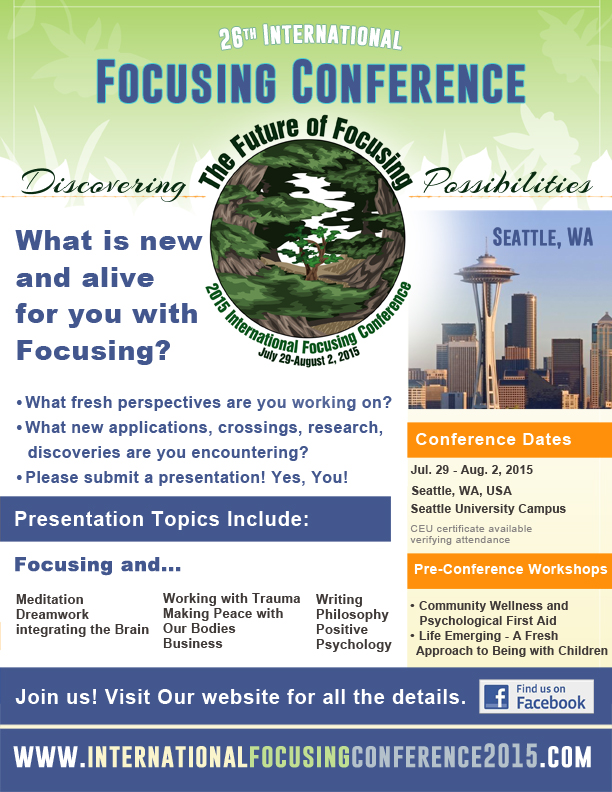 Hidden Trauma: Finding One's Gifts Next to the Wounds
Presented by: Jeffrey Morrison
This workshop begins with and then extends beyond my article in the recent Folio entitled, Hidden Trauma: A personal story of living with Dyslexia. I will begin by sharing a little about my learning disability and stories working with hidden trauma in my psychotherapy practice. My objective is to expand our awareness of what trauma is and how it shows up in the everyday experiences of many people.
Trauma is often hidden from the person suffering from it. The suffering is often experienced as a collection of symptoms based in shame, self worth and disconnection. The wound that forms can also initiate us into our giftedness. Focusing offers a wonderful practice for entering the territory of our wounds and leading us to the fullest expression of our gifts.
This workshop will combine presentation, participant interaction and a guided experiential exercise designed to help us explore an area of our lives in which we have struggled looking at both wounds and gifts implicit in the struggle.
Presentation type: Other (See details)
Other presentation type: Presentation, discussion and guided group process
Length: 1.5h
Language: English
Presenter email: jeffrey@morrisontherapy.com
Presenter website: www.morrisontherapy.com
Bio: Jeffrey Morrison
Jeffrey Morrison, MA is a psychotherapist and certifying coordinator
For 30 years Focusing has been the heart and soul of Jeffrey's work as a psychotherapist, Focusing trainer, consultant, meditation guide and lecturer.
His vision is to bring Focusing into the mainstream of healing professions. He offers a two year training program for therapists and other healing professionals interested in both personal and professional development. Focusing is learned, integrated and applied to working with complex trauma.