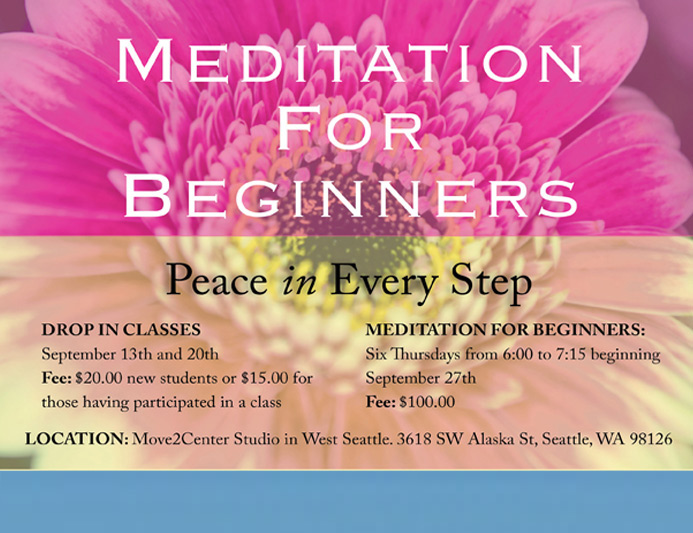 Meditation for Beginners: Peace in Every Step
Struggling with Anxiety, depression, or relationship issues? Are you tired of trying to fix yourself? Change is not something you force it is something you allow.  Learn how meditation allows change to occur naturally!
Meditation can be a gentle first step toward connecting with your true self, healing old wounds and making choices that are truly right for you. In this class, Jeffrey Morrison, LHMC will introduce the practice of meditation as a sacred form of self care and path to personal fulfillment. Jeffrey's somatic approach will guide you into a deeper, more compassionate relationship with yourself. You will learn to sense and appreciate your whole being and recognize your own needs.
OFFERINGS:
Drop in classes on September 13thand 20th
Time: 6:00pm to 7:15pm
Fee: $20.00 new students or $15.00 for those having participated in a class
LOCATION: Move2Center Studio in West Seattle.
3618 SW Alaska St, Seattle, WA 98126
---
Meditation for Beginners: Peace in Every Step
Six Thursdays from 6:00 to 7:15 beginning September 27th
Fee: $100.00
TIME: 6:00pm to 7:15pm
LOCATION: Move2Center Studio in West Seattle.
3618 SW Alaska St, Seattle, WA 98126